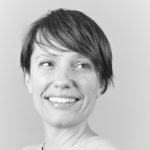 "Eat food. Mostly plants. Not too much."
Michael Pollan's wise words sum up how I approach nutritional therapy. Following these 7 simple words can make a huge difference to our health. My clients continue to be surprised at how often quite simple changes to their diet and lifestyle can impact their feeling of wellbeing.
Health is also not the absence of disease but the feeling of energy and vitality. When was the last time you felt refreshed on waking? If I can help my patient's feel more energised, then I know I am part of the way there. Common issues I work with in practice include sleep issues, patients who are tired all the time, hormone and skin issues, sport's performance and gut issues.
I graduated with a BSc in Nutritional Medicine from West London University in 2011. I follow the integrated approach to nutrition, supporting the mind and body through food. Solutions are tailor-made, realistic and help to bring about change. My particular interest areas are female health and working with children, especially those with learning difficulties. I'm registered with BANT and CNHC. I'm a regular guest on BBC Sussex and have also contributed to articles in Top Sante, The Daily Mail, Hip & Healthy, Get the Gloss, Amazing Mama and WeMove magazine.
Consultations can be done at my clinic in Brighton or over Skype. If you'd like to book a consultation email me at karen@karennewby.com